Sekisui Chemical GmbH exhibited at "Trako" in Poland from 26th to 29th of September and "Nordic Rail" in Sweden from 10th to 12th of October.
As creosote oil, which is carcinogenic, will be prohibited from 2018 in Europe, Sekisui's FFU synthetic sleepers have been getting more attention. At the exhibitions, we had a lot of visitors from various companies especially because we got the final approval from EBA (German Federal Railway Authorities) this April and had the first installation in Sweden in the center of Stockholm in September.
We hereby would like to express our appreciation for visitors to our booth as well as those who supported us to exhibit at these fairs.
Overview of the Exhibitions
● Trako - the largest railway-related exhibition in Poland
 26-29th of September
 Amber Expo in Gdańsk, Poland
● Nordic Rail - the largest railway-related exhibition in Scandinavia
 10-12th of October
 Elmia in Jönköping, Sweden
Products Exhibited
● FFU Synthetic Lumber
● CALMMOON Rail Cover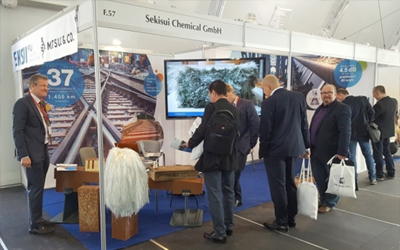 SEKISUI Booth at Trako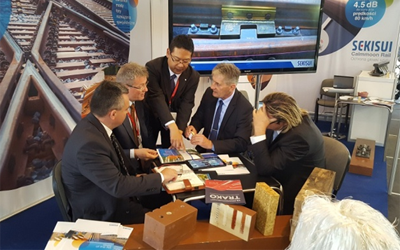 Business Meeting at Trako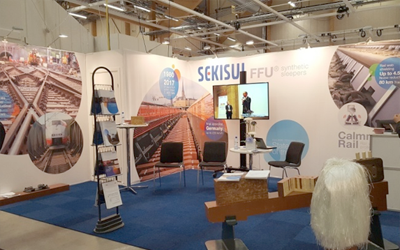 SEKISUI Booth at Nordic Rail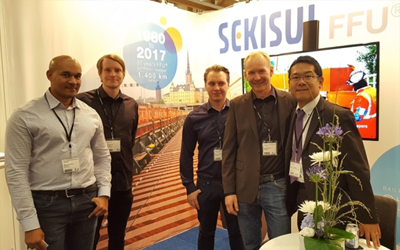 1st client recently started to procure FFU in Sweden
Reference
■ CSR Report 2016
"Fiber-Reinforced Foamed Urethane(FFU) Materials Contribute to Safe and Reliable Transportation"