About UIEP Company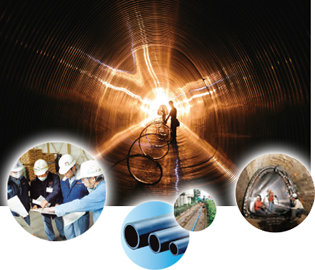 "Lifeline Innovation for Our Future"
From the inception, we keep contributing to society by replacing conventional material (metal, concrete, lumber, etc.) to plastic as a pioneer of plastic. One of such representative example is to start mass production of rigid PVC pipe in 1952. Since then, we introduced various products to the market including Synthetic Lumber, Valve and Fittings ahead of others to meet the needs of the age. Our product range has been widely expanded from piping material to sheet, synthetic lumber, heat insulating materials, etc.
In addition, we pay attention on the issue of aging for buried pipeline at quite early stage and worked on development of pipeline renewal technology. This results in the development of trenchless pipe renewal technology, SPR system in 1986. SPR system is highly acclaimed due to its state of the art technology, and obtained the 1st "Japan's Exciting Manufacturing Prize" by Japanese Ministry of Economy, Trade and Industry in 2005, and "The Okochi Memorial Prize" in 2013.
We would appreciate it if you could increase the understanding on Sekisui and utilize our service to your business activity.
About SEKISUI CHEMICAL CO., LTD.
Name
SEKISUI CHEMICAL CO., LTD.
Establishment
March 3, 1947
Paid-up Capital
100,002 million Yen
President
Teiji Koge
Number of Employees
23,006 (for the term ended March 2017; on a consolidated basis)
Net Sales
1,065,776 million Yen (for the term ended March 2017; on a consolidated basis)
Ordinary Income
91,513 million Yen (for the term ended March 2017; on a consolidated basis)
Net Income
60,850 million Yen (for the term ended March 2017; on a consolidated basis)
Corporate Headquarters
Osaka Head Office
2-4-4 Nishitemma, Kita-ku, Osaka 530-8565 Japan
Tel: +81-6-6365-4122

Tokyo Head Office
2-3-17 Toranomon, Minato-ku, Tokyo 105-8450 Japan
Tel: +81-3-5521-0521