SEKISUI CHEMICAL CO., LTD. has exhibited at Inno Trans, the world's largest trade fair focused on the rail transport industry. It is held every two years and this is the 6th time we have exhibited this fair from 2006.
Preparing for the complete prohibition of creosote oil (※) for industrial use in Europe in 2018, railway companies are searching for an alternative material to make railway sleepers instead of wood. For that reason our synthetic wood material FFU, environmentally friendly and technically developed in Japan whose system is highly rated worldwide in the area of safety and reliability in railway transportation system, has drawn lots of attention more than before. Our booth had visitors exceeding 500 people mainly from Europe but also other area including Middle East, India, Southeast Asia, China and the United States, etc.
Lots of visitors are quite concerned in the area of safety and reliability in railway system. This shows that the market demands for high durability, easy handling and minimum maintenance material. Also, visitors on our booth tend to seek for materials for the purpose to apply for actual projects rather than general interest.

We hereby would like to express our appreciation for all visitors to our booth during this event.
(※) Creosote Oil for Industrial Use A type of anti-corrosive agent by distilling coaltar. In recent years, it has been designated as a carcinogen.
Outline of Inno Trans 2016
(1)Period
From September 20th till 23rd, 2016
(2)Place
The Messe Berlin Exhibition Centre, Germany
(3)Outline
Consists from 5 segments, Railway Technology, Railway Infrastructure, Public Transport, Interiors and Tunnel Construction.

It has quite wide exhibition area of 200,000m2, around 3,000 exhibitors from 60 countries and have around 140,000 visitors from 150 countries

In addition to internal display, it has outdoor display where everything from tank wagons to high speed trains are displayed on 3,500meter of track.
(4)Products
 Exhibited
Synthetic Wood Materials, Eslon Neo Lumber FFU Railway Sleepers
Vibration Abosorbing Material, Calmmoon Rail
Thermoplastic Acrylic Modified PVC Sheet, KYDEX
PTC Self-Control Heater, TECHEATER (※)

(※) TECHEATER is a product belongs to SEKISUI PLASTICS CO., LTD.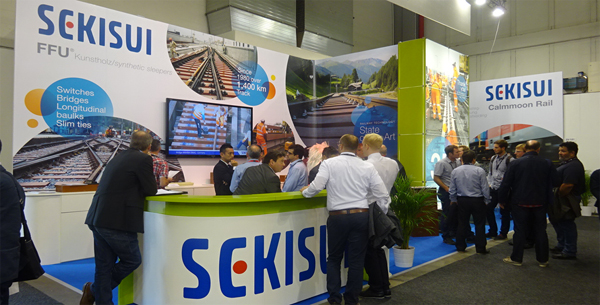 Picture of our Booth