About UIEP Company
Sekisui Chemical Co., Ltd. consists from 3 intercompany, Housing, High Performance Plastics, and Urban Infrastructure & Environmental Products Company (UIEP).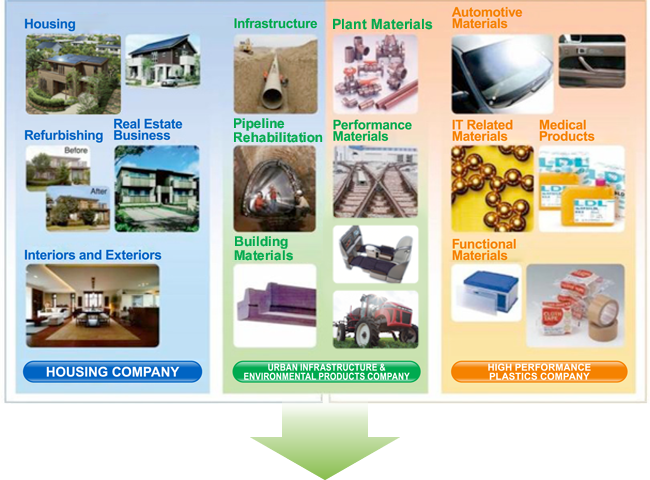 We, UIEP provides solutions for infrastructure, social and living environment in the area of the followings;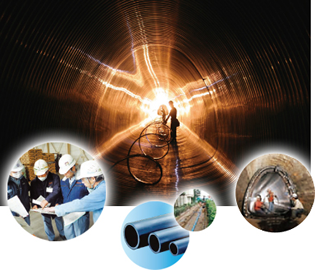 "Lifeline Innovation for Our Future"
The fundamental businesses of the Urban Infrastructure and Environmental Products Company mainly deal in water infrastructure facilities, such as water supply and drain pipes, and the manufacture and sale of construction materials. We are focusing on leveraging the technology cultivated from its fundamental businesses to develop and expand its overseas business operations in areas ranging from pipeline renewal, sheet used for high-performance plastic molds, industrial piping materials, and glass-reinforced plastic pipe for infrastructure applications.
We also strive to meet the varied needs for housing and social infrastructure with a comprehensive support, value chain approach to business from survey and diagnosis to construction methods, system design, material production, construction, and plant maintenance and management.
About SEKISUI CHEMICAL CO., LTD.
Name
SEKISUI CHEMICAL CO., LTD.
Establishment
March 3, 1947
Paid-up Capital
100,000 million yen
President
Teiji Koge
Number of Employees
23,901 (for the term ended March 2016; on a consolidated basis)
Net Sales
1,096.3 Billion Yen (for the term ended March 2016; on a consolidated basis)
Ordinary Income
81.2 Billion Yen (for the term ended March 2016; on a consolidated basis)
Net Income
56.7 Billion Yen (for the term ended March 2016; on a consolidated basis)
Corporate Headquarters
Osaka Head Office
2-4-4 Nishitemma, Kita-ku, Osaka 530-8565 Japan
Tel: +81-6-6365-4122

Tokyo Head Office
2-3-17 Toranomon, Minato-ku, Tokyo 105-8450 Japan
Tel: +81-3-5521-0521