UIEP's VALUE CHAIN
Our mission to optimize values
for our clientele along 2 vectors: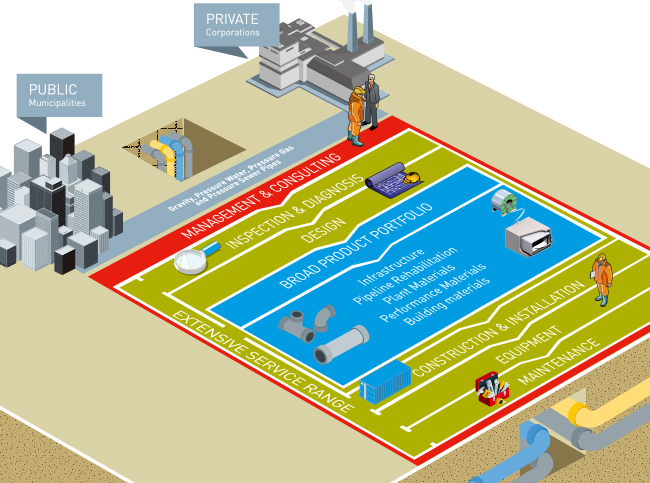 Product Value Chain
Full Product Range
Difference in Product Capabilities.
Provide full range of products that support urban development in the area of constructing houses, facilities and infrastructure. We offer highly functional and efficient products developed under the philosophy of Earthquake-proof, Asset Management, Environment-Friendliness, Comfort and/or Safety.
Additionally, we have widened our service arena to develop a wider range of products and services to meet clientele's pipe-related infrastructural needs for electricity, telecommunication and gas in housing apartments, offices and industrial factories respectively.

Business Value Chain
Extensive Service
Difference in Support System.
We do not only sell products such as pipes for commercial buildings, but also offer end-to-end pipe related support services.
We are capable of undertaking the inspection/diagnosis, design, installation and maintenance of wastewater pipes in industrial as well as public pipe network systems.
By synergizing Urban Infrastructure & Environmental Products Group's distinct capabilities, we are capable of delivering a wide suite of complementary support services to our clientele.